Without the Funk Brothers, there would have been NO Motown!
The various Funk Brothers, as important as they were to the Motown Sound, were largely unknown to the public. As Stevie Wonder said, "People weren't really that interested in the musicians".

But times have CHANGED....

The 45th Grammy Awards
February 23, 2003
CONGRATULATIONS!!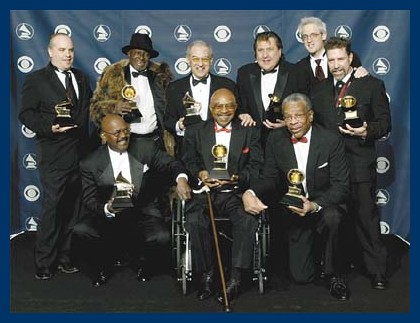 Bottom row left to right: drummer Uriel Jones, guitarist Eddie Willis and percussionist Jack Ashford.
Second row: producer Ted Greenberg, pianist Joe Hunter, guitarist Joe Messina, bassist Bob Babbitt, and producers Harry Weinger and Allan Slutsky.
Best Compilation Soundtrack Album For A Motion Picture, Television Or Other Visual Media
Standing in the Shadows of Motown
The Funk Brothers & Various Artists
Ted Greenberg, Allan Slutsky & Harry Weinger, compilation producers
[Hip-O Records]
Best Traditional R&B Vocal Performance
What's Going On
Chaka Khan & The Funk Brothers
Track from: Standing In The Shadows Of Motown (Various Artists)
[Hip-O Records]
The 46th Grammy Awards
February 8, 2004
Lifetime Achievement Award


Keyboards: Earl Van Dyke, Joe Hunter, Johnny Griffith

Guitarists:Eddie Willis Joe Messina Robert White

Drummers: William "Benny" Benjamin , Richard "Pistol", Allen Uriel Jones

Bassists: James Jamerson, Bob Babbitt

Percussionists: Jack Ashford, Eddie "Bongo" Brown

The backbone of Motown's success as a black-owned company making records for the broadest possible audience was its incomparable group of session musicians, who dubbed themselves the Funk Brothers. Whether the Miracles, Marvelettes, Mary Wells, Martha and the Vandellas, Supremes, Temptations, Marvin Gaye or the Four Tops were featured vocalists, the band was the same -- and what a band! The nucleus of key players came to Motown as members of pianist Joe Hunter's combo, including the accomplished rhythm section of bassist James Jamerson and drummer Benny Benjamin. The guitarists included Robert White (prominent on the Temptations' "My Girl" among many others), Eddie Willis (responsible for the guitar into on the Temptations' "The Way You Do the Things You Do"), and rhythm guitarist Joe Messina. Miracles guitarist Marv Tarplin was another powerful contributor; Smokey's "You've Really Got a Hold On Me" is built around interlocking guitars, with Eddie Willis chording on the back beat against Tarplin's simple but eloquent melodic figures.

Drummer Benny Benjamin, whose recording career dated back to the 40s was familiarly known as Papa Zita. He was a musician of phenomenal technique, energy and drive who could swing lightly, using brushes rather than sticks, but was best known for his thunderous tom-tom fills and the robust slap of his snare drum.

Everyone at Motown, however, seemed to agree that James Jamerson, a jazz-trained bassist equally adept on the acoustic stand-up bass and the Fender bass guitar, was the band's real linchpin, its most consistently creative player. The other musicians might be given specific figures to play; Jamerson, given a chord sheet for the song and perhaps a run-through with voice and piano, created his own parts, and in the process became the most influential bassist of the 60s. Since Motown had a policy of giving its records a simple, heavily accented back beat, often reinforced by tambourines, hand-clap patterns and percussive rhythm-guitar strokes, even Benny Benjamin's drums occasionally receded into the background, especially on the churning, thickly orchestrated productions of Holland-Dozier-Holland. Jamerson, though, was always audible; as often as not, his lines were so incisively melodic that they were more memorable than the vocal melody, effectively becoming the record's "hook". Some of Jamerson's most distinctive work was on the Four Tops records such as "I Can't Help Myself", "Bernadette", and "Standing in the Shadows of Love".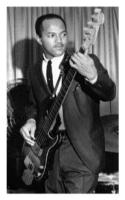 James Jamerson
Jamerson said of "Standing in the Shadows of Love", - "My feel was always an Eastern feel, a spiritual thing. The bass line has an Arabic feel....I studied the African, Cuban and Indian scales. I brought all that with me to Motown. I picked up things from listening to people speak, the intonation of their voices, I could capture a line. I look at people walking and get a beat from their movements".
Jerry Wexler calls Jamerson "the greatest bass player in all popular music, from whom every other bass player took notes, lessons and licks. "
The "house band" concept was at the heart of 60s soul recording. At Motown, jazz-schooled musicians learned to adapt their talents to the more emphatic gospel rhythms and the classically and pop-influenced song structures of the Motown writers and producers. In doing so, they created a fresh rhythmic idiom that influenced generations of musicians around the world. *
*Source ~ "Dancing in the Street", Robert Palmer
" The Funk Brothers were the band for life" ~ Smokey Robinson
" Musically, they were what was going on for Motown" ~ Duke Fakir of the Four Tops
" We had some hellified musicians" ~ Katherine Anderson Schaffner of the Marvelettes
" They were responsible for the Motown sound" ~ Martha Reeves
" Those guys were fabulous" ~ Barrett Strong
" A combination of rats, roaches, talent, guts, force and love " ~ Berry Gordy
Funk Brothers who have passed on:

James Jamerson, Robert White, Benny Benjamin, Earl Van Dyke, Eddie Bongo Brown, Pistol Allen and Johnnie Griffith.


Standing in the Shadows of Motown Deluxe Edition now in stores
(release date May 11, 2004)